Our club is located in Boone, North Carolina – the heart of the High Country. Organized in September 2009, we are the club for cyclists of all ages, abilities, and styles of riding — commuters, mountain bikers, road cyclists, leisure riders, and anyone else who just likes to ride bikes. We are a 501(c)3 tax exempt organization.
BAC's mission is to develop, coordinate and promote safe and accessible bicycling opportunities in the geographic area of Boone, North Carolina.
Goals
Ensure the development and maintenance of bicycling lanes, trails, and bike pathways, whether paved, gravel or single track
Develop working relationships with all private and public entities sympathetic to our mission
Promote bicycling through the creation of recreational and competitive bicycling events
Educate our youth and adult population about the health and environmental benefits of bicycling
Educate the riding and driving public about bicycle safety
Facilitate activities, social events, and races that showcase bicycling opportunities in the Boone area
Acquire gifts and grants to fulfill our mission
Boone Area Cyclists has many ways for you to get involved and make a difference.
Events – Volunteers are always welcome (see list below) !
Trail Building – creating Boone's first mountain bike park at Rocky Knob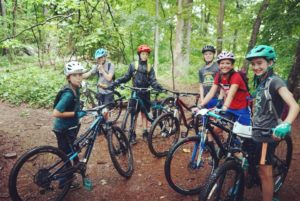 BAC Annual Event Listing
Kid's Bike Rally (Spring)
High Country Cycling Classic (April)
Kid's Mountain Bike Camp (July)
Cowbelle Classic (August)
Take A Kid Mountain Biking Day (October)
Holiday Party (December)
Also visit the BAC home page for upcoming events, news, and the BAC Facebook page for more BAC happenings. Thanks to our BAC Partners who have supported us and our events through donations and in-kind gifts.